Social media marketing is a powerful means, available to those who work with books and, more generally, with stories and editorial content, to find potential new readers or connect to existing booklovers.
Having a presence on key social platforms is becoming crucial for the publishing sector too. According to a recent report from Research and Marketing, Book Publishers Global Market Report 2020-30: COVID-19 Impact and Recovery, the increasing use of social media by publishers and authors, in the year of the pandemic, and then the possibility of having access to a huge amount of data on consumer behavior, has played an important role, not only for the survival and growth of the sector but also for its innovation.
However, being present on social media is not enough. What really counts, is understanding how to manage the online presence to make these channels a real business resource. Think about the Facebook pages and Instagram accounts of well-known publishers and authors. Everything you see, from the post to the story, through to the response to a comment, is part of a broader strategic vision defined and described in one of the most important and often misunderstood documents that underlie the correct, functional online narrative: the editorial plan.
The editorial plan is a strategic document created to guide the choice and publication of content, with the aim of achieving business objectives by addressing a specific target. A good editorial plan is built by creating the right mix between useful content to achieve business purposes and creative content that meets people's needs. Therefore, to create a truly functional document it's necessary to be very clear on our short and long-term goals and to know our buyer personas in-depth, with all their habits, needs, and desires. We've already talked about initial analysis, choice of social channels, and definition of the target in this post.
Let's take a look at what the necessary steps are to create a good editorial plan to promote a book on social media.
Choice of content and topics
The social media network is packed with content of all kinds, so it's necessary to be able to generate interest around the posts but also to create direct participation in order to establish a relationship as personal as possible with our audience. That's why the social media communication of publishers and authors cannot be limited to the promotion of publishing products. The risk is to be self-referential, dissuading potential users. Theoretically, to find the right mix of content, you can refer to the third-party rule or the 80/20 rule. The first divides the content into three macro types: content to promote products and/or services; content that aims at direct interaction with users; content from external sources, always in line with your business. The correct distribution of content is indicated in the name of the rule, a third for each macro type. The second rule implies that only 20% of published content should be aimed at selling products, while the remaining 80% should consist of useful and interesting posts. With these indications in mind, the advice is to try to draw up a list of possible topics after answering a series of questions:
What characterizes your editorial project? What makes it unique? Define and tell your Unique Value Proposition by putting it at the center of your content.
How do you carry out your daily work as editors or authors? Communicate it! Users are very curious to know the behind-the-scenes work and to see and interact with the people behind the brand.
What are your readers' most frequently asked questions? Learn to listen and try to provide answers.
What is the news or relevant information that your customers are interested in? Try to become a benchmark in your specific industry.
What are your values? Inspire and create synergies! Did you know that people are more likely to buy from people/brands similar to them, that they value, and with whom they share values and experiences?
How and where to find ideas and inspirations? Study your competitors, subscribe to Facebook groups and newsletters, follow influencers and trade publications. You'll be truly spoiled for choice!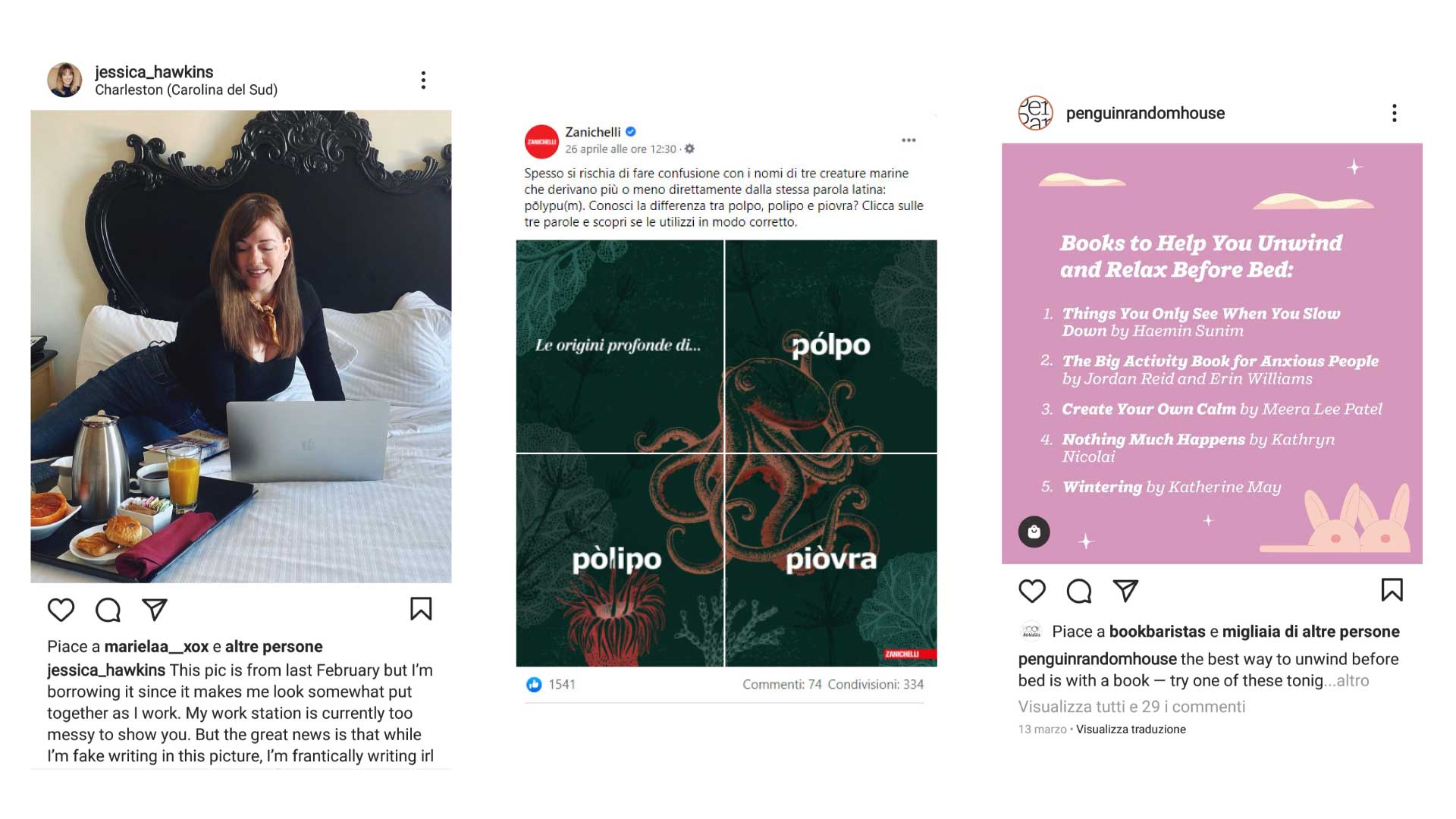 Defining your brand's voice and personality
One of the main effects of the advent of social media in the marketing world has been the humanization of brands. Today, small and big brands speak to us directly, they ask us how we are, they tell us what happens in the company. In short, they talk to us and they do it with a specific tone of voice. The choice of the tone to use in your social communication is a fundamental step and is one of the cornerstones of the editorial plan. To define it appropriately and correctly you have to take into account two things: what you want to communicate about your editorial work and what emotions you'd like to convey to your readers. Help yourself once again by answering these questions:
What kind of language and tone does your audience usually use?
What kind of language do you use in your publishing business?
How would you describe your personality?
The tone of voice is one of the elements that always represents the personality of your brand. This means that, in addition to being recognizable, it must also be applied and respected in all your communications, so be consistent.
The creation of a coordinated image
The personality of the brand is defined not only through the tone of voice but also by the graphic and visual elements that you'll use. Have you ever heard of a coordinated image? The coordinated image is the set of graphic and visual elements that brands use to speak and to show themselves to their audience in a consistent and immediately recognizable way. The advice is to define a set of guidelines for the production of your visual content:
Define a color palette suitable for the story of your editorial project.
Choose a set of fonts (no more than three!) to be used in all your graphics.
Create graphic templates, coherent and repeatable, to be used on all your social channels.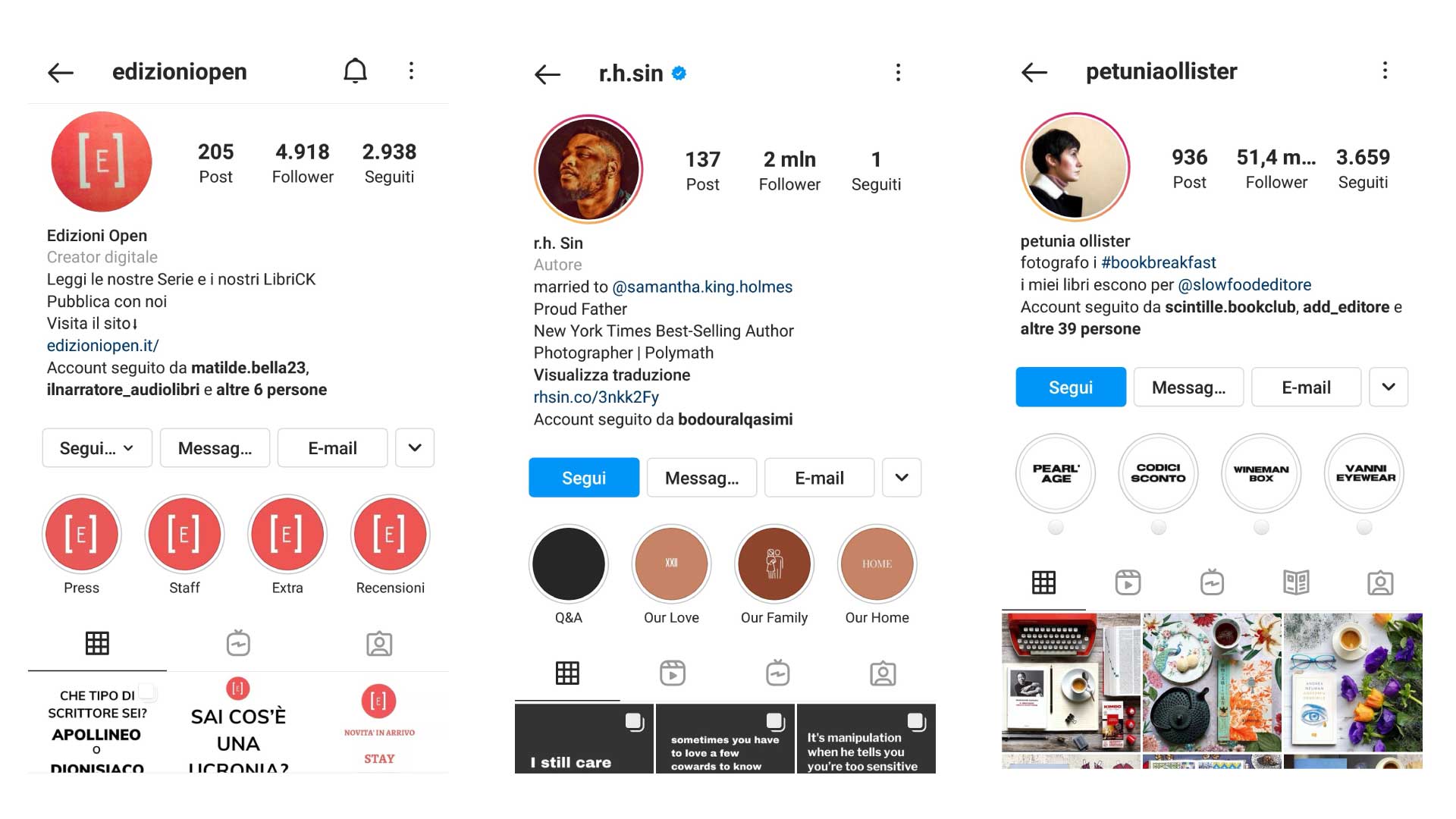 Only after establishing topics, tone of voice, and a coordinated image you can finally start working on the editorial calendar, in which you can indicate what content to publish, in what format, on which social, on what date, and at what time. We'll talk more about this in the coming weeks.